For years now I have been building/riding rail design wood luges as a hobby, and ive run into some problems a) the sleds will twist/bow length-wise over time b) the boom to chassis/pan connection isnt strong enough c) over time the truck mounting hardward will damage the wood it's bolted to d) i wanted a concave body pan and curved fender. below are some of my solutions
for the pan and fender i started with a buttboard from Tim. I cut a section off of the front that I later flipped upside down and mounted on top of the front boom over the front wheels for use as a fender.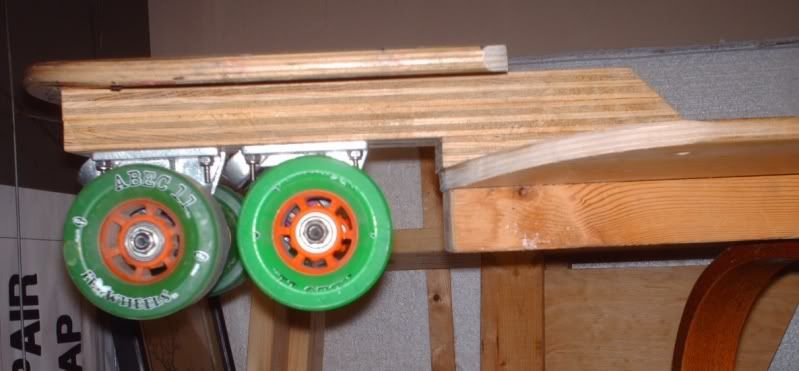 i cut/drilled/rounded the corners of my own plates. these are drilled with the same hole pattern and size as the truck baseplates. they go on top of the boom and act as a large washer (as is seen in later photos)
the booms were the parts that bowed/twisted over time, so i made my own 2 x 4s out of stacking 2 layers of 3/4" plywood, then another layer of 3/4" ply for the spacer, then glued them together, and left them clamped for about a year.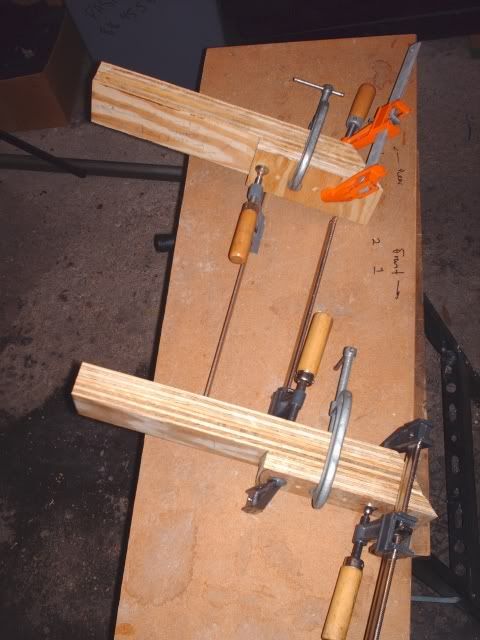 the connectiong between boom, pan, and rail on this desing uses two large bolts that are recessed into both the bottom and the top of the connection. this is done on both the front and back. these use locknuts and washers but are not permanently fastened.
Ive had this slep up to speed just once and after tweeking the trucks it rode like a dream. i sitll have to fabricate handles, do all of the finish sanding, disassemble and paint it, but i am confident that this will gimme years of fun. i hope the idea of using a buttboard like this comes in handy for guys wanting to build solid sleds on a budget.
Fast Eddie